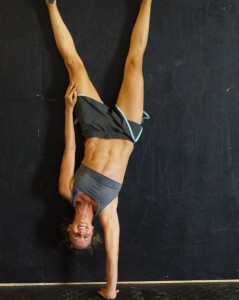 I came to CrossFit reluctantly due to a lack of pull-up ability (more like being scared to death to look silly in front of everyone else), but was greeted with a box and a band, making that nemesis exercise very doable.  After Memorial Day Murph I was hooked and couldn't wait to go back.
Growing up as an athlete on the soccer field, softball diamond and basketball court, sports have always been a part of my life.  However, as a senior looking to sign a soccer scholarship a heart condition was diagnosed that would change my life for the next 17 years (and counting).  The condition boggled doctors and physical exertion was quickly limited.  After battling the condition for years it appeared that physical activity would be a permanent struggle…that was until finding CrossFit and the Paleo Diet.  CrossFit has me in the best shape of my life due to the fact that the short intense workouts are much more "accepted" by my heart, an unexpected blessing!  The Paleo Diet has rid my body of the junk I was eating (although I have been a very "healthy" eater my entire adult life), which allows my body to run much more efficiently and I can recover days faster from an episode than previously.  All that to say…I may still have limitations, but CrossFit and Paleo have given me a quality of life I never knew was possible.
As a coach I may push and I may get picky about form and mechanics, but I find no greater joy (ok maybe I find greater joy in my children, but that's a given!) than helping someone shatter through a wall they thought was impenetrable…just the same as I did.
Amanda is certified in:
CrossFit Level 1
CrossFit Level 2
CrossFit Movement and Mobility
CrossFit Olympic Lifting
CPR/AED for Adult, Child, and Infant