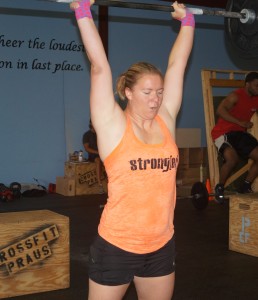 I came to CrossFit kicking and screaming, in fact I refused for a month to even try it!  Honestly, I thought it was just another type of gym/fitness trend. As an athlete from a very young age, I was an avid softball and field hockey player all through grade school and went to college on a softball scholarship. I even played for a women's semiprofessional football team for a couple years. Through all that, I knew my way around a gym and thought I knew what was the best way to get myself in good physical shape. I liked going to the gym and lifting weights and doing cardio for hours at a time.  Then, I finally gave in to my own philosophy "that I would try anything at least once" and went to a free guest day. I was hooked immediately.
There is something about CrossFit that is not like any other sport or fitness program I've ever done.
I love CrossFit. It's a huge part of my life now, so I decided I would like to share my passion with others. What better way to do that than coach what I love. Olympic Lifting is something I just found that sparked my interest and I enjoy very much.  I've been lifting weights for years but there is something about Olympic Lifting that captivated me.  The Olympic lifts involve very technical moves, normally using heavier weights.  There is something about the complexity of the movements that I love; and as a coach, more than anything, I love helping other people reach that moment where the bar flies overhead and they get to experience the feeling of "it all coming together perfectly".  If anyone knows me, I'm an engineer by trade, love experiencing new things, and have been know to lift a lot of weight…which certainly helps feed my love for CrossFit.