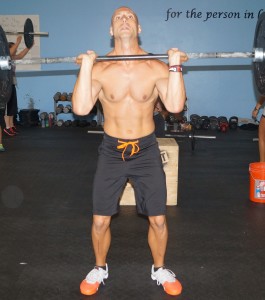 I am passionate about the impact CrossFit has had on my life and the lives of others in the Praus community. I have always been active in sports playing baseball, basketball, football, and running track until high school. I was often not the best athlete on the field/court, but the exposure to so many opportunities at a young age has provided me with well rounded physical skills. I continued football in high school as a wide receiver and defensive back. My college years were mostly dominated by some intramural sports and lifting weights on a sporadic schedule…leading to my heaviest weight of 220 (not so muscular pounds). In 2006 I gave up the 15 pizza rolls and a Pepsi night time snack and went on a calorie in – calorie out diet. The results were fairly satisfying and in 2008 I trained for my first 5k and two triathlons. 2008 also held the birth of our first son, which pushed me out of the sedentary lifestyle for good.
I founded CrossFit because of the frustration I experienced from training for a marathon in 2009 under the 'long slow distance' method. After the race I searched for a better training philosophy and found CrossFit Endurance. By the winter of 2010 I was fully emerged in CrossFit Endurance and started incorporating CrossFit workouts into my routine a couple times a week.
Memorial Day Murph was my first official CrossFit workout, which lit a fire that would eventually result in the dream of doing CrossFit full time. As a coach I am extremely motivated by seeing others accomplish their goals…likely based on my personal experience and appreciation for hard work. CrossFit has changed the course of my life, and I am thrilled to share that with others!
Shane is certified in:
CrossFit Level 1
CrossFit Level 2
CrossFit Endurance
CrossFit Movement and Mobility
USAW Olympic Lifting
CPR/AED for Adult, Child, and Infant