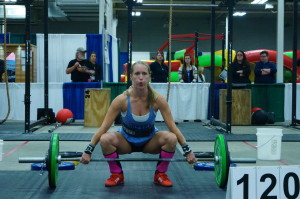 I was always active as a child, participating in dance, gymnastics, figure skating and more.  Through high school I continued to participate in four sports, including basketball, volleyball, track and swimming.  During college, though, fitness and sports took a back seat, and workouts became more cardio based.  As an adult I would stay "in shape" by running and signing up for races, and then wonder why I would get injured during training (and be reminded that while I like the occasional run, I find daily running dreadfully boring).
After a friend joined CrossFit in 2011 and raved about it, I decided to give it a try.  I was immediately hooked and haven't looked back.  I no longer had to "force myself" to workout and instead was internally motivated.  It was fun, addicting, and the constant daily challenges gave me goals to strive for and never made it boring.
I currently coach general classes but my real passion is Olympic Weightlifting.  I spent over 2 years coaching Olympic Lifting classes, and getting specialized training and coaching from some top athletes and coaches in the country. I have competed in Olympic Weightlifting as well, and find it really fun.  Recently I started providing an additional service for individuals wanting to better align their nutrition goals with their athletic pursuit.  I launched "Performance Macros" a company designed to help individuals find the right balance between protein, carbohydrates and fat, a balance that is necessary for body weight, composition and performance goals.