ATMOSPHERE OVER SIZE (Trevor Derby, 2018 Athlete of the Year)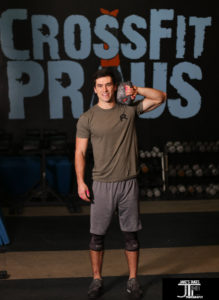 When you move to a new city, it can be a scary time. For Trevor Derby, his gym helped adjust to the new environment.
It provided him something on which to focus, other than moving and it provided him a community.
"Look at the WOD (Workout of the Day) and strategize all day, Derby said. "Then you get there and you completely blow it up and your game plan goes right out the window."
Derby moved to Fort Wayne in 2017. He found out about CrossFit from one of the coaches at his gym in Ohio that he refers to as "Globo Gym".
"They had a CrossFit class and I asked the coaches if they mind if I jump into one of them.  So ever since then, I thought this is more fun than just doing bench press or just doing squats or a set of five at a gym," said Derby.
Trevor's job requires him to use a standing desk throughout the day and looks forward to getting to the gym as soon as he gets off of work.
"At the end of the day, everybody has stress that they have to deal with. For me it's like, sweet works done. I can take a break and relax at the gym. It's a lot more fun and it's a pretty large stress relief for me just to work out, get sweaty and have fun with all the good people at the gym."
Finding a gym proved not to be a difficult decision for Derby when he moved to the Summit City. He visited a couple CrossFit boxes but there was a distinct difference between the two in his mind.
"I just liked Praus' feel. It was smaller, everyone knew everyone, whereas the other box was still smaller than those "Globo Gyms" but Praus had more of a smaller and more relaxed feel."
Trevor got the feel that this is why the coaches liked Praus as well. One of the coaches told him, a gym with more than 150 members has too many cliques being formed, where at Praus it continues to be different.
"There are tons of people helping others work out or giving tips or anything like that. You can go any hour of the day, find a friend and be able to help. It's a pretty awesome feel for people coming in brand new. They feel welcome, they don't feel intimidated. There's that stigma that with crossfit, everyone is crazy, super fit, super tough, loud music, throwing weights around but at Praus you know it doesn't feel like that at all."
Derby said his mind has definitely changed from his previous thoughts on anyone who crossfits.
"I was a big non believer in it. With the amount they're paying you could go to any "Globo Gym" and do the same exact workouts and be as fit. But I think what gets people to join is the atmosphere.
When it comes to the workouts, Trevor loves the gymnastics aspect of CrossFit.
"Anything on the bar, pull ups, muscle ups any of the gymnastics stuff I like. I wish there was hand stand walks incorporated into the workouts. (Some of the) things I don't like are double unders and deadlifts."
Derby says doing sports in high school and college helps him get through the workouts.
"I played hockey and tennis throughout high school then I played tennis at Trine University. (There's) not a whole lot of lifting in tennis but there was endurance."
Trevor has been a CrossFitter since 2016. He loves to get better in any way he can. Every year he plans to improve. In 2017, he set a goal to Snatch 185 pounds and Clean 225 pounds, both of which he's accomplished. But this isn't the end for his journey.
"I would like to snatch 195 in 2018. Cleaning 235 would be great. I've never done the open officially last year I was in Ohio kind of traveling a lot so I wasn't able to. I did the workouts but it was nothing official. So my goal would be to do the open and to do it well."
Derby says now that he is determined to continue his CrossFit career, there's no stopping him.
"It's what I look forward to when I wake up in the morning. I love it and don't want to stop."