A Change of Scenery, November Athlete Spotlight, Lucian Boar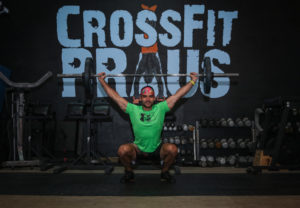 Crossfit is all about community and bringing people together from different backgrounds. Lucian Boar was born in Romania, grew up in Northfield, Michigan, a suburb of Detroit, and then came to Fort Wayne for graduate school.  Luci is a student physical therapist currently working at a practice in Ann Arbor.
When he first came to Fort Wayne, he could see that Fort Wayne was different.  "Everyone was so open and close to me.  I feel like it was so easy to get that in Fort Wayne rather than anywhere else I've been."
"It was much smaller than what I'm used to. It was easier to find my way around – especially if I go out and explore.  Unlike where I'm from, because there are so many streets where you can go. It's not as populated here and I found the people around here are very friendly."
Since he was going to be in Fort Wayne for a few months, Luci went looking for a CrossFit gym to go to.
"I found two gyms; Praus and Mad Apple. I knew Mad Apple was bigger and I didn't know if I would like that. I was also told by one of the Praus members about Free Guest Saturday. After attending one Saturday, I thought this place made me pretty happy. I liked it. I like the community at Praus rather than a much bigger place."
When asked about his favorite movements, Luci said, "I like doing butterfly pull ups because I feel really cool doing them. I think it is one of those skills that you really have to work on and master to become really proficient with. I'm just really proud that I have butterfly pull ups. I also like the clean, whether it is the power or full clean. Even though I am terrible with overhead strength, I've grown to love the snatch as well. My least favorite movement is anything that involves my shoulders because I don't have a lot of strength up there."
Luci could be seen in the gym almost every day throughout the week.  Along with growing in strength and ability in the gym, Luci had a personal impact on many people.
"I really didn't think I had brought such a big change, I was just myself the whole time. I don't mind helping people whenever they ask me for advice. I got into physical therapy because I get a lot of satisfaction from helping people. So saying "no" was very difficult for me. It was very humbling to hear that I had made an impact. I didn't think I would have."
Luci became so close with many of the gym members that they threw him a surprise party before he left.  Praus also hosted an in-house competition in his honor.
"I was speechless, I just couldn't believe everyone did this for someone who was only here for a little bit. It was awesome, I've never had a surprise like that in my life."
Fort Wayne also had an impact on Luci in a major way. He says it's something he'll never forget.
"It showed me how many people I can impact and help, whether it be in their lifestyle or health. I'm always asked why I do extra work in the gym. I'm not expecting to go to Regionals, but I want to see how much I can push myself. I also want to be an example to people because some people take rest days because something is nagging them.  I always say you can modify the workout with the mindset that durability can be more important than ability."
When he left to finish his schooling, Luci left with Fort Wayne and Crossfit Praus in his heart.