Winning the day by bettering yourself (Joe Secrest, April Athlete of the Month)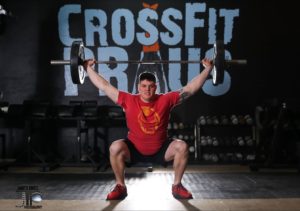 Working out is nothing new to Joe Secrest, but this past year has changed the way he looks at pushing his body to the limits.
"I am more concerned with the quality of the movement rather than how much I can lift or do," Joe said.
He came to Crossfit Praus last year after he saw one of the Open videos. At the time he was working out at the YMCA and decided to put himself out there to try something new.
"I really became bored of working then I popped into Praus on a Saturday," Joe said. "I liked the feeling of the place and thought everyone was pretty close without any cliques."
Throughout his life Joe has always tried to stay in shape. He played football, basketball, track and baseball. Then he enlisted in the army. Joe trained all over the United States, Ireland and Germany. He also was deployed to Kuwait. His experience in the Army fuels his drive to become the best Crossfit athlete he can.
"In the Navy Seals they have a motto: it pays to be a winner," Joe said. "Our unit kind of adopted that motto and it's been ingrained in my mind. It isn't about necessarily winning a competition or being the best in the gym but I want to win the day. I want to be better than I was when I wake up in the morning."
Joe says Crossfit helps make his day easier. As a furnace operator at Steel Dynamics Inc., he's always walking around. Joe says he has more energy now than when he was in the army.
"Everyday I go into the gym trying to improve on something whether it is at strength or a faster time or not breaking during a movement," Joe said. "I want to get better both mentally and physically."
There are a few workouts Joe loves and hates to see on the whiteboard.
"My favorite workout is Isabel (30 snatches) because I love snatching," Joe said. "I love the unknown of popping the bar up, are you catching it or do you have to make that split second decision to bail on it. I also love the assault bike. It hurts so bad but when you're done, it feels so worth it. I dred Cindy, because it's 20 minutes of pull ups, push ups and squats."
With anything in life there are stereotypes, and Crossfit is no different. But Joe doesn't listen to them.
"I laugh at all the stereotypes involved with Crossfit because we are taught technique," Joe said. "If go into any other gym, you see people doing movements all the time with the wrong technique. If anyone doubts that Crossfit is beneficial, I'll tell them they just have to try it. I've gone to the YMCA a couple of times since I started Crossfit and I can't stand being there."
He's also sees the family aspect of Crossfit Praus.
"Everybody wants to help everybody," Joe said. "Each person cares about everyone's well being, not just in the gym but about their life in general.
Recently Joe got his first muscle up and was able to do five handstand push ups but he isn't stopping there.
"I really want to be able to put 15-20 pull ups together and be able to string together double unders," Joe said. But my biggest goal is working on my nutrition. I have been working with a nutritionist. It's helped me with my muscle ups. I want to lose weight so I can move better. If I do it, my joints and back would feel a lot better."
Joe has even gotten his wife to come with him on Saturdays.
"She was really nervous to come and try it," Joe said. "She loves to run but she's really only been a one or two movement person, running and squats. She's getting into her comfort zone especially with moving the bar bell."
And he has no doubt his kids will pick up the sport as well.
"My son just recently was like, look daddy I am doing push ups," Joe said. "He asked the other day if we wanted to do Sally because obviously they can hear the music while they're in the kids room. I told him no but I let him and his sister do it while I played the song."
Joe sees how much Crossfit has changed his life and he's the positive impact it's having on his family.