Always Chasing Rabbits (Ryan Fruchey, February Athlete of the Month)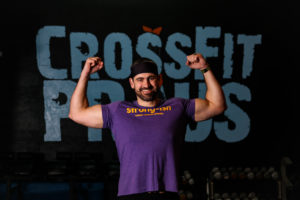 When it comes to working out, Ryan Fruchey isn't a stranger to pushing his body to the limit.
"I had worked out at a bunch of different places around town, I had been working out with a trainer before coming to Crossfit Praus," Fruchey said.
Once a few friends got him to try a Crossfit workout, he was hooked.
"You can kind of get the flavor of a place pretty quickly and it (Praus) seemed to fit my personality," Fruchey said.
Ryan is the President of Don R. Fruchey, a industrial service company in Fort Wayne, and one of his favorite aspects is getting to know so many people from different backgrounds.
"The people are fantastic," Fruchey said. "In my work, I talk mostly with engineers and construction guys so it's fun to meet a guy who works in news, it's fun to meet people in the medical field, people in business, attorneys and other areas. There's a variety of workouts in crossfit and there's a variety of people so you just get that extra flavor in life."
And the people at Praus help give Ryan motivation.
"It's hard to go into a CrossFit gym and not do your best", Fruchey said. "If you see everybody else struggling beside you, you're not going to put the bar down. You want to get the last couple reps in as soon as you can. It's just that extra push at this stage of my life that benefits me."
When Ryan found out he was the February Athlete of the Month, he stayed humble.
"I thought there are about 50 other people who you should talk to before you talk to me, there are so many inspiring stories at Praus," Fruchey said.
Ryan says the true spirit of CrossFit is alive and well at Praus.
"There are bigger gyms, and smaller gyms, [but the spirit is alive] in terms of the way the people are together and just the sense of community," Fruchey said. "It is competitive enough but not the end all be all. Praus focuses on improvement wherever you are, rather than some loftier goal. It's really based on where the person is and trying to get them to achieve their next goal."
He credits the coaches for helping him with his Highlight of the Year.
"I've been chasing muscle ups for a long time," Fruchey said. "We had gymnastics practice for ring muscle ups recently and I was able to get three more than usual. Then during the workout last week, I actually got my first bar muscle up, another benefit. You learn to ask questions, then you try to learn the movement and then the pay off is really satisfying. The Open is a great time of year, you get to see how far a lot of people have come during the the CrossFit Open, it (the Open) really is a fantastic experience. It is scheduled into classes, so, everyone is going to be there for it and doing the work. It's a highlight of the year really."
Ryan's attitude towards Crossfit has also been contagious to others in his life.
"I have a cousin who lives in New York state, who's been doing it for probably a year and a half and her husband just started," Fruchey said. "Even my mom when she went to that master's competition, kind of hinted around that she would like to try it." The ability to be able to modify CrossFit for anybody is really appealing to me."
Fruchey says one of his favorite workouts might surprise everyone.
"This might sound weird but I really like the named WOD "Fran" because it's a good way for me to measure my progression," Fruchey said. "It's really one of those workouts that gives you a good feel of how far you have come, from when you started."
Still Ryan does have a few that he's not thrill with when they're on the board and he uses that as motivation.
"If it's a movement I struggle with, that kind of bums me out," Fruchey said. "I know you're not required to RX everything,but I like too as much as I can. If it's a handstand push up, a muscle up, pistols, they still challenge me. I would like to be able to kip handstand push ups better, get my toes-to-bar to be better and maybe learn to not despise burpees so much."
Ryan says he would always recommend everyone come to Praus.
"The coaches are fantastic at praus. There's a lot of that bad publicity in the world about crossfit because people get injured but as you watch the Olympics they're talking about athletes doing crossfit training. It really comes down to quality instruction and the coaches care about the athletes and I think that's a big selling point and strong point for Praus."
Ryan does have some advice.
"There are so many rabbits to chase, you just gotta pick one," Fruchey said. "Don't chase them all at the same time otherwise you'll go crazy." (referring to setting goals and achieving them in the gym).
Ryan has been a member at Praus for several years, he is consistent in his training, dedicated to improving his own fitness level while also supporting those around him. He not only continues to strive to reach his own goals, but Ryan is steadfast in his commitment to improving the lives of others around him while working hard to expand his knowledge about CrossFit. He is diligent about share this knowledge with his "Praus Family" and looks for ways to support and give back to the community around him. Ryan is an asset to the Praus House and although he does not feel like he should be the "Athlete Spotlight" that is just one more reason why he should be.