Always up for a challenge (July Athlete Spotlight: Edward Garcia)
Edward Garcia is always looking for something to test his athletic ability.
"Anyone who is looking for a challenge, a mental challenge mostly, should try CrossFitting."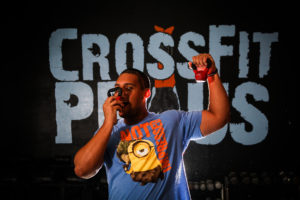 Edward is from Venezuela, his father and sister are still back home. He came to the United States in 2010 to play baseball and further his education. He received his bachelor's degree while playing baseball all four years at Campbellsville University in Campbellsville, Kentucky. Shortly after graduating, he started working in Kentucky and later earned his Masters degree from the same university. Throughout Edward's life, he has tested his body anyway possible.
"I've always been doing some kind of workout or sport since I was four-years-old.  I don't have any plans of stopping my athletic lifestyle anytime soon. I love standing out where I can play two – five games a day without dying. I have never stopped for longer than a few weeks.
While he was playing baseball, Edward suffered a significant injury that sidelined him for five weeks, the longest he's gone without any physical activity. Back in 2011, he was throwing to one of his teammates who was hitting the ball while Edward was behind the screen. After throwing the ball, half of his face was left outside of the screen and he was hit with a line drive to the forehead that required surgery.
"I had 54 staples and 9 stitches put in my head that day. (I) never had pain, a concussion, or even took my pain medicine. I didn't even lose consciousness. I didn't have any fear coming back to the game. I just knew it was a freak accident and I just dealt with it."
Edward moved to Fort Wayne in 2017 after living in Campbellsville for seven years. Garcia is currently a Tech Specialist at Intelenet Global Services. Soon after moving to Fort Wayne, Edward was interested in joining a Crossfit gym.
"I was doing CrossFit for almost two years before I came to Fort Wayne. I was looking around at gyms around here and I was comparing prices. Praus was the least expensive one. So I wanted to try that one first."
It didn't take Edward long to get hooked on Praus.
"After I worked out there the very first time, I didn't see a need to work out anywhere else. I felt comfortable with the people who attend the 6 a.m. class. Everytime you go there, you can always find something to laugh about. We share a lot about what we're going through. There isn't a bad time at Praus."
Since Edward's life has always included athletics or working out, he is currently working on perfecting some of his movements.
"Most people think I am great at the leg workouts, but I can always improve no matter what the workout is. I don't have a favorite workout because I love the variety of them, I like not doing the same thing over and over. I do like snatching because it is one of the hardest movements and I love a challenge."
Edward has seen many accomplishments while Crossfitting but that's not his favorite memory.
"I love when everyone picks each other up regardless of how you finish. Whether your first or last, there's always someone cheering you on."