Keeping Himself Young, Scott Krafft, May Athlete Spotlight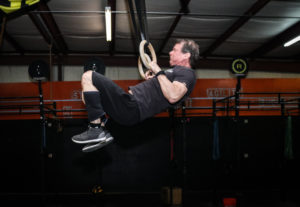 "Life doesn't check out when you turn 45, it can go on and you can be a competitive athlete long into your 60's."

Scott Krafft has always been an athlete throughout his life. He would do active sports, then transitioned into conditioning. He even was a body builder earlier in life. Then when he was working as a referee for Division III College Football in 2010, he noticed something different about one of his fellow refs.

"(I) saw this ref and he was buff with grey hair, I'm like dude how do you get that body. He said, 'I do CrossFit.' I said, "What's CrossFit?', he told me it's more military based training. I googled it and thought it looked cool."

Scott then went to meet the owner of another gym but didn't pull the trigger. He continued to think about CrossFit for years and finally found CrossFit Praus.

"It is significantly different, because it just challenges different aspects of your physical limitations, from strength to endurance to muscle endurance to gymnastics and especially mentally. This challenges you every day."

Scott is 60-years-old and currently works as a Financial Advisor. As an older athlete, he knows he needs to work differently than the others.

"My biggest challenge is understanding the limitations as I get older. I want to be able to do a muscle up at age 70 but pushing those boundaries and not hurting myself is the hardest challenge. I just need to find a way to push my muscle endurance to the limit and keep that going."

Scott has also dealt with two significant injuries, tearing his bicep and problems with his hip. This has never detoured him from walking away from the sport.

"As an athlete you must understand your body and understand the movements. Good coaching, like we have here at Praus, teaches us about mechanics. My advice to older athletes is to not worry about the weight and just learn the movements to the best of your ability. Get the muscle memory correct and then you can work on gradually increasing the weight. Injuries are because we are stupid and competitive. You have to check the ego at the door, try to learn to hold back, give yourself some margin for error and then stretch, stretch, stretch."

Scott tells everyone, the coaches at Praus are worried about the overall health of their athletes over them making a personal best.

"They're the ones who know you as an athlete, your strengths and weaknesses along with your personality. They push and they also help us hold back. The coaches are what push me as an athlete. I also love listening to them, I know I've done this for a while, but I'll get good feedback from them on something I didn't notice and something I can improve upon. They're great and I love the coaches."

Overtime, Scott has gotten his daughter and his wife to join the gym.

"It is a passion that we all have for CrossFit, it's a special thing. I've competed with my daughter three times now. We just have a special bond. We share the pain, and the challenges of pushing yourself with your child is just a different bond."

Scott's competitive drive hasn't diminished as he's gotten older. He regularly competes in competitions.

"Ultimately my goal is to be healthy for as long as I can be healthy. I want to be active in my family's lives, my grand children's lives. I am doing this for longevity. However, what I love about CrossFit competitions is the ability to push yourself and test your boundaries. At 60-years-old, I love being able to do what I can do. When I get into competitions, I want to measure myself against others, even those who are younger than me. Can I compete with them, can I stay up with them? It forces me to stay young. It makes me feel younger when I'm competing. I just love it."

Scott continues to echo what many athletes say about Praus, the community is everything.

"This is my extended family. If I have a bad day at work, when I come see all these smiling faces, working out together, pushing each other, encouraging each other to do a little more, I just forget about that day. I love Praus and it is a great community. I would love to see it continue to flourish and grow. I would like to see if we can get more of the older folks in here. I hope that people who are aging can see and get some encouragement from me that you can still have an active and vibrant life."

Scott is an intragyral part of CrossFit Praus, he encourages the entire community to better themselves. Many fondly refer to him as "Papa Scott" and he truly lives up to that name, he is a mentor for younger athletes and also helps our older athletes make sure to care for themselves and recover correctly to help reduce any injuries and continue to grow as athletes.

Our Praus House family would not be the same without "Papa Scott", many of our athletes hope to be where he is one day, vibrant, healthy and an incredible athlete.