Finding Extra Motivation (September Athlete Spotlight: Chad Jacquay)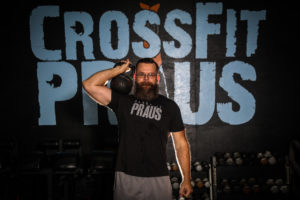 When people think of a normal gym, they think of lines of treadmills with 20-30-year-old's lined up on them or weight machines with heavy duty weight lifters on them. Chad Jacquay didn't fit the norm as you would think. Although he can lift some very heavy weight, he's not in the 20-30-year-old class, he has grandchildren.
"When we (my wife and I) became grandparents I wanted to be around long enough. So I decided I needed to do something and I've enjoyed Crossfitting ever since."
Chad took that motivation to another gym but soon after he joined, he lost interest.
"Tried working out at Max Fitness for three months but stopped because you're doing the same thing over and over and over. The only other thing that I've done as a prescribed workout was Tae Bo back in the 90's."
Chad works at Micropulse and that's how he heard about Crossfit.  One of his coworkers said that he was a Crossfitter and it caught Chad's attention.
"I knew he did it but I didn't know there was an actual gym. I thought he did it in a garage or something. Then we had a company wide weight loss challenge and I thought well maybe I'll just try Crossfit. Then I found out how close Praus was to our house and I went to check it out."
For more than two years, Chad has been going to CrossFit Praus. When he attended his first class, he says it was difficult.
"I don't remember the workout but I believe it had 90 lb thrusters in it. I just used the empty bar and I had a hard time doing it. I just remember everybody was doing it at the same time like a high school gym class. I think it is so much more helpful to have the community behind you to help. You're not just walking into the gym with all the equipment where you have to figure it out by yourself."
Soon after he joined, Chad tried to convince his wife, Becky, to join. She was working out at Carnivore Fitness didn't enjoy the experience. So Chad told her about his gym. She was hesitant at first but he kept telling her anyone can do it. Eventually she fell in love with Praus as he did.
"It helps me when she is struggling with something, I say well why don't you try it this way. We keep each other in check to make sure we're doing the movements the correct way."
Since becoming a Crossfitter, Chad has participated in five competitions. He enjoys the extra push each one gives him.
"When it comes to the daily workouts, you can take it easy and not go as hard but in the competition you're there with everyone else doing the same work out with people watching. Plus with your name on the computer or on the board, it adds to my motivation."
Chad has seen himself accomplish many things at Praus, including a 465 deadlift. He also enjoys doing back squats. His goal in the long run is to be able to do a muscle up with a ring or bar. But another goal of his was to step into the spotlight.
"I am not someone who necessarily likes the spotlight. I was kind of dreading that I might get chosen and I thought about saying no months ago if I would get asked. I just figured I might as well do it."