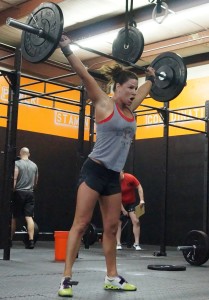 Certifications:
CF-Level 1 2009/2014
CF Olympic Lifting Certification
CF Gymnastics Certification
Defense Attendance Certification
CPR/AED
Precision Nutrition L-1 Certification (coming soon!)
I first started CrossFit In November of 2009. I loved it right away! I am the kind of person that dives in all the way when I find something I love. So, in April of 2010 I got my CF-Level 1. And began coaching after a six-month training program.  A year later I got my CrossFit Olympic Lifting Certification, along with various other certs since then. I love coaching people to help create a better version of themselves. It gives me great satisfaction when I assist my clients to reach that "lightbulb moment" – a moment when all the hard work at a skill, all of a sudden, clicks!
People come into the box with all different stages of ability. I love to get to know people where they are, to see them transform, and become part of the community which has such a great impact in all aspects of their lives. Community is the best thing about CrossFit!  I'm constantly educating myself to help my clients (friends) to achieve their lifetime goals.  Anne has over 8 years of coaching experience and is also the Owner and nutrition coach of Performance Macros.